Since im a self proclaimed Technophile, i thought id list out the top 10 cool gadgets i got over the past year. Heres the list!
10. Nextel i836 - this pulls in at 10 because its a cell phone. Not that im not a cell phone fan, but its just a cell phone. I got this when i decided i didnt want to lug my blackberry around as a cell phone. Probably a bad decision, since i realized having 2 mobile devices takes up more space than 1. As far as cell phones go, its probably my 2nd favorite so far, still 2nd to the black LG510 i had while in college. This one is sleek, small, easy to use and has decent battery life. Its got some sound quality issues, and the silver coating is starting to peel off. Oh well :(
9. Vonage IP Telephone Service - Vonage has been a good addition, IMO. I never was a big person on having a home phone AND a cell phone service, but once i started working from home more at my old job, it was nice to have a decent speakerphone for long conference calls. I still use it, since i like having a home number i can give out to people, as well as the fact that i can forward my vonage calls to my cell. Using the smaller vonage appliance box rather than the replacement router they initally sent has been more helpful, since its nice to have wireless capability, which the router they sent didnt have. All in all, ive been happy with vonage. Good price, sound quality is a bit low, otherwise, good value.
8. Elgato EyeTV - I was so excited to get this back in the spring. It is a PVR device for Macintosh that pulls cable signal directly into the computer for viewing or recording. It can also export what it records in almost any quality, which is incredible. Honestly one of the coolest devices i have ever used....until lately. Since upgrading OS's and hardware, this device has gotten worse and worse. It runs through a firewire connection, and lately it just keeps flaking out...to the point i disconnected it. About every 30-45 minutes, it would lose signal and just stop working. I was getting less and less impressed with the titanTV interface and the lack of support from Elgato over the known crashing bug. Hopefully they can get it fixed soon. It has a ton of potential.
7. Sony Cybershot DSC-W5 - Just got this camera for christmas. Its a nice upgrade from my old cybershot, 5.1mp, 3x optical zoom, nice big LCD screen...however, im having alot of trouble getting used to the auto focus. Id say about 90% of the pictures ive taken so far with it are blurry. I learned recently(after reading the manual, suprisingly) that to auto focus in certain modes, you need to hold the button down for a few seconds until the reticule on the LCD turns green, then take the picture. Not sure how i feel about this, since most of the pictures i take are of quick things. I.e. babies, cats, cityscapes, etc. Well have to see how it turns out. Honestly, the image quality has been great so far on the images that havent been blurry. Cant wait for my vegas trip to get a good test of it!
6. Blackberry 7510 - Got a good deal on this through my old company. Good interface, very rugged device. I still use it to this day, and really see no reason to upgrade. Im actually thinking of switching back to using this as my main cell phone again, rather than carrying 2 devices around. Great clear screen, easy to use keyboard, etc. Its very very cool.
5. iPod Mini - Cant go wrong with an ipod. I switched to a mini when i started travelling more for increased battery life, and its a bit more rugged than the last ipod i had. The screen was incredible, great backlight, and the clickwheel was so much better than the old touchwheel i had. I also got it on discount from apple, which wasnt bad. It is now being used by my dad, hes testing it out since he still has a 2nd gen ipod...:P
4. Sirus Sattelite Radio - Last year for christmas my folks got me a blaupunkt sirius head unit for my car. Honestly, sattlelite radio is one of my new favorite things. Great reception, awesome channel selection...only thing is i dont drive enough now to use it as much as i used to. Sirius is doing a great job with this, and this device is top notch. The only complaint i have is that the unit gets EXTREMELY hot after a short period of use. Other than that, it is a wonderful device!
3. ATI X800 - What a video card. I debated spending the money on a video card, since it was around 250$ when i got it, but hot damn. Worth every penny. Playing games like WoW or SWG with full settings as well as with doing video work, this card roars. Ive never had a high end video card like this, but it is simply amazing. With the 19in Dell LCD i got for my PC, it finished out my gaming rig, and this machine seriously is incredible. Id like to see how good it looks with a widescreen DVI LCD, but that is a long way off. With playing as much WoW as I do, this card makes that such an amazing experience.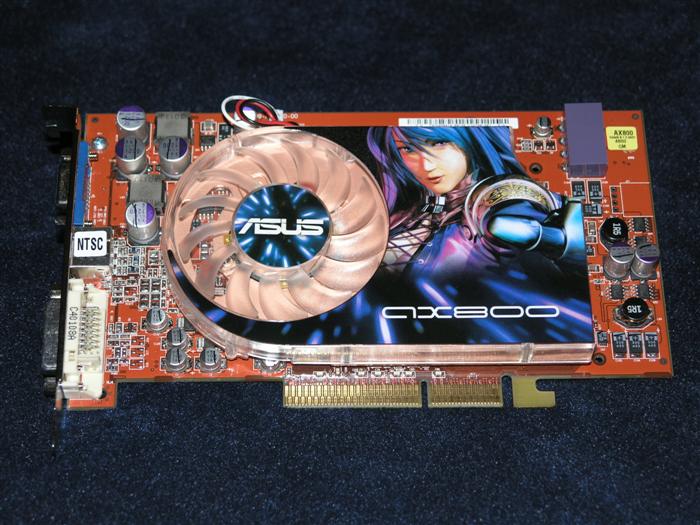 2. Powermac G5 1.8ghz - Ive been wanting to upgrade my mac for a long time, and ever since the G5's came out, i knew i wanted to have a machine with that kind of horsepower. If it werent for this machine, i wouldnt have ever started podcasting, website work, audio editing, digital video and so much more. The sheer power of this box is amazing, and of course Tiger is a magnificant OS. Im running 2 monitors on this machine, and i wish i could run more, from all the things i want to do with it. Anyone who hasnt used a mac should really try one. I dont care what model you use, but try them out. They are one of the most pleasant user experiences ive had. 1.8Ghz, 80gb HD, 1.25GB RAM, Superdrive and digital audio ports, this machine is the perfect digital media machine.
1. iPod Video - Hands down the most amazing piece of technology i have seen apple put out since i have become a neo-fan of apple. Ive had just about every model of ipod and this by far is the best. The screen is beautiful, the device is thin and the interface is amazing. I cant stop messing with this thing. Watching video on the train is great. Perfect usability, and the screen is very comfortable on the eyes. The itunes video store is amazing, as all the shows that are on there are in spectacular quality for the ipod. I cant wait to test it out on a TV using the dock and AV cables. It would be nice if they made the device more scratch/fingerprint resistant. I have taken great care of it and it is not scratched it, but i have heard alot of complaints that it scratches easily. However, it is almost impossible to handle this thing without getting fingerprints and smudges all over it, which on a normal ipod isnt really an issue, but when you smudge up the screen, it makes it kind of difficult to watch video. Other than that, this thing is a 10/10!